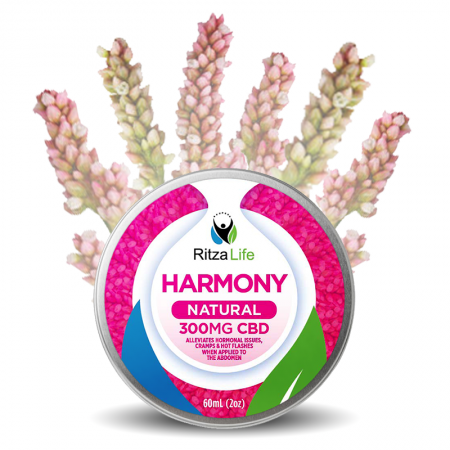 Alleviates hormonal issues, cramps & hot flashes when applied to the abdomen.
Indications:
PMS, Hot flashes, Menopause, Menstrual cramps, bloating, hormonal imbalance
Main Herbal Ingredient:
Bistort is a natural blood flow rectifier. It is useful to control bleeding disorders whether internal or external bleeding. Bistort is highly astringent, in nature, which is helpful in preventing hemorrhages from the lungs and stomach.
Sage: Modern day research into the herb's properties has exposed what our predecessors knew all along; the estrogenic properties of sage help to relieve the frequency and severity of menopause symptoms including night sweats, hot flashes, and dizziness.
Ingredient Information:
Ginger Root: A plant often use for pain relief from menstrual cramps
Bistort Root: An herb used for diarrhea, dysentery, cholera, gastritis, cystitis and heavy menstrual bleeding
Skullcap: A plant often used for its calming and antispasmodic effects
St John's Wort: Flowering plant with anti-inflammatory and pain relief properties.
Clary Sage: A plant often used for lifting mood and reducing stress levels. It also acts as an antispasmodic to relax muscles and ease menstrual pain, balances hormones, and reduces bloating.
Lemon Balm: An herb used to relieve menstrual cramps and premenstrual syndrome. Cranesbill Root: A plant medicine to stop abnormal bleeding, including that related to menstruation and uterine problems.
Chamomile: A plant that premenstrually, may be particularly helpful because it contains properties that relieve muscle spasms, and may therefore help reduce the severity of menstrual cramps. In addition, chamomile seems to reduce tension that may lead to anxiety and irritability, helping combat the mood changes experienced during PMS.
Chickweed: A plant known for combating hormone imbalances.
EV Olive Oil: An oil very effective in reducing menstrual cramp pain.
White Beeswax: White beeswax: As medicine, beeswax is used for relieving pain and swelling (inflammation.)
Baobab Oil: An oil with many health benefits, including joint pain, arthritis and inflammation relief.
Rose Geranium: A plant that has a toning effect on the uterus that can ease heavy periods and regulate menstrual flow. Along with soothing physical PMS symptoms, rose is a calming, soothing scent to turn to when PMS irritability and anger strike.
Dong Quai: An herb that Women have testified to the healing aspects of for the hormonal imbalance of pms and the symptoms that imbalance causes. It is particularly effective for the mood swings, panic attacks and depression that occur during the menstrual cycle.
Cramp Bark: As its name hints, cramp bark is known for relieving cramps, including those associated with premenstrual syndrome or PMS.
Black Cohosh: A plant that is traditionally used by native Americans to relieve PMS symptoms such as cramps, muscle pains, and menstrual pains.
Ylan Ylang: A natural remedy to reduce PMS symptoms.
Fir Balsam: A tree used for pain, including migraines and menstrual cramps.
Cypress: Cypress is a favorite for easing annoying menstrual cramping. It improves circulation, soothes body aches, and relaxes muscle and joint pain. Cypress is also an excellent astringent that helps flush out toxins and water retention.
Menthol: works as a vasodilator. Blood vessels widen which increases blood flow. ... Molecules in the menthol attach to receptors in our cells and this produces a numbing effect. By stimulating certain receptors and blocking sodium and calcium channels, menthol can reduce the pain signals sent to the brain.
Contraindications
Do not take when taking medication for Alzheimer's, schizophrenia or bipolar disorder.
Stop using at least 2 weeks before a scheduled surgery.
Do not intake if you have severe kidney problems or have severe allergic reactions to peach or cypress.
Side Effects
Can cause some side effects such as trouble sleeping, vivid dreams, stomach upset, tiredness, dry mouth, and skin tingling
Specifications:
2 oz. Salve
300mg CBD (THC Free)
Apply to skin as needed

Everyone Is Different
The fact is, every person is in a different place in their life and wellness, and will react differently to natural products. Seek professional advice what products & ingredients are best for you.
These statements have not been evaluated by the Food and Drug Administration. These products are not intended to diagnose, treat, cure or prevent any disease.
HARMONY - Natural (Salve)