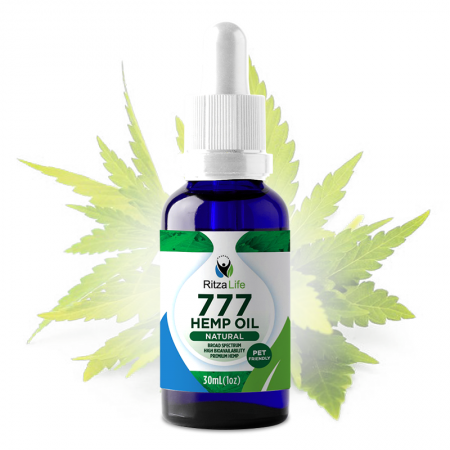 777mg Broad Spectrum Hemp Oil
Our flagship hemp oil containing the whole plant extract of cannabinoids and terpenes. This enhances our products therapeutic value and the "entourage effect" to better support your endocannabinoid system.
Kentucky & Colorado Premium Hemp | High Bioavailability | Pet Friendly | No Preservatives | No Pesticides | GMO Free | Gluten Free | Cruelty Free | Vegan
Supports Our Bodies Endocannabinoid System
Ingredients:
Hemp Seed Oil, 777mg Broad Spectrum Hemp Oil (91% purity), and Vitamin E.
Specifications:
1 oz. / 30 ml bottle with dropper
Servings per bottle: 30
Amount per serving: 1 ml = 26mg (1 full dropper)
Contains 0.0% THC (THC Free)
Third Party Certified
* For best results use 1-2 times daily. Apply 1 full dropper under the tongue.
Also available: PURE CBD Oil
What Makes Ritza Hemp Oil The Best?
We go to great lengths to vet the quality of our product by requiring a multiple step quality control system to insure potency and purity. Every bottle of Ritza Life CBD has a full set of 3rd-party testing including Certificates of Origin and Analysis done at 3 different phases during the process: the farm, every master batch and final production. Our tests include a separate analysis for the cannabinoid profile, potential microbial life, mold, heavy metals, residual solvents and pesticides, herbicides and insecticides.

Everyone Is Different
The fact is, every person is in a different place in their life and wellness, and will react differently to CBD oils. It's best to start small and gradually increase consumption until you experience the desired results.
CBD is known to help reduce pain, anxiety, depression, acne, inflammation, seizures, arthritis, benefit heart health, alleviate cancer-related symptoms, have neuroprotective properties and many other potential benefits.
These statements have not been evaluated by the Food and Drug Administration. These products are not intended to diagnose, treat, cure or prevent any disease.