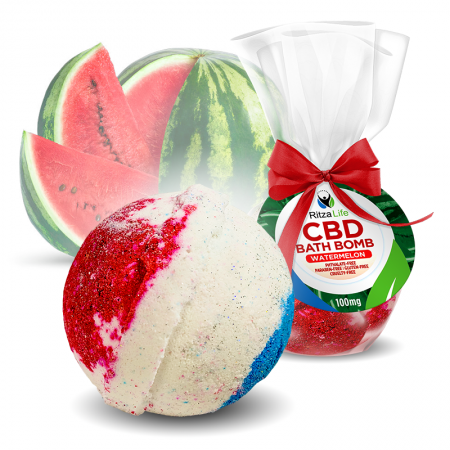 Full Spectrum, 100mg CBD Bath Bomb
A luxurious, hand made, CBD bath bomb containing the full spectrum of cannabinoids, terpenes, vitamins and minerals that will revitalize your bathing experience!
Watermelon Oil, Sunflower Oil, Organic Shea Butter, Coconut Oil, Sodium Bicarbonate (Baking Soda), Citric Acid, Sea Salt, 100mg Full Spectrum CBD.

Why Full Spectrum Bombs?
Full spectrum phytocannabinoids have naturally occurring cannabinoids (CBD, CBC, CBN, etc..) and terpenes. When terpenes and cannabinoids are combined, you get what is called the "entourage effect" and they begin working synergistically, magnifying the therapeutic benefits in your body. (Distillates, isolates, and chemical CBD versions lose these extra cannabinoids, thus decreasing efficacy.) Since our products are water soluble your body will absorb a significantly greater amount. Ritza Bombs will bring a whole new meaning to the word relaxation!
---
Specifications:
5 oz. Bath Bomb
Hand made in USA
Phthalate-free, Paraben-free, Gluten-free & Cruelty-free
Not for consumption.
Will not stain your tub
100mg Full Spectrum Phytocannabinoid
Contains 0.3% or less THC (non-psychotropic)
How to use:
Fill your bathtub with warm water.

Hold the bomb about 1 inch in front of your chin, close mouth and begin taking slow, deep breaths until your mouth's "horizontal profile" increases by at least 50% :-)

Add to bath and enjoy!

These statements have not been evaluated by the Food and Drug Administration. These products are not intended to diagnose, treat, cure or prevent any disease.