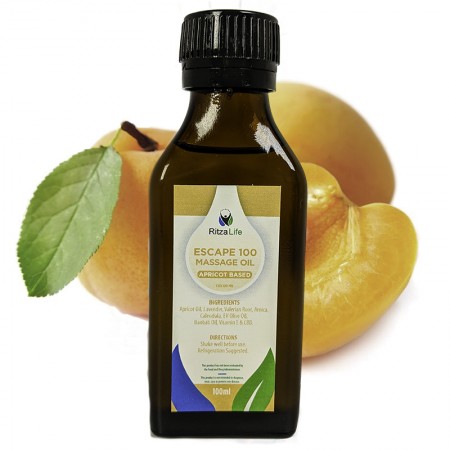 Apricot Based CBD Massage Oil
Main Herbal Ingredients:
Apricot kernel oil is good for people with sensitive skin. It is non-irritant, soothing for the skin and possesses many therapeutic properties which make it suitable for its various uses:
Emollient – Apricot seed oil is a brilliant emollient (moisturizer).
Anti-Inflammatory – It reduces inflammation when applied topically or when ingested.
Anti-Aging – It provides nutrition and support to the skin so that aging is reduced.
Anti-Bacterial – This effect is made use of to treat clothes and other products to keep bacteria away.
Antiseptic – reduces risk of infection in open wounds and cuts.
Antioxidant – prevents the skin from damage by free radicals.
Additional Ingredients:
Lavender: has a relaxing scent perfect for the massage atmosphere. It also boosts potent anti-inflammatory properties, and ultra soothing for skin.
Valerian Root: Used topically to ease pain, cramps or spasms by massaging a small amount into the area of the skin. Used in aromatherapy for relaxation.
Chamomile: serves as a natural pain reliever when used topically and provides a relaxing scent. .
Arnica: Applied to the skin for pain and swelling associated with bruises, aches, and sprains.
Calendula: has great healing, soothing and softening qualities
Sunflower Lecithin: A light oil that absorbs quickly into the skin making it ideal for massage
Extra Virgin Olive Oil: Has antioxidant properties, many vitamins beneficial for skin, and is moisturizing and antibacterial.
Baobab Oil: has a really different texture that most other oils. Used as a massage oil to provide silky, smooth skin. The massage is easily facilitated because of the glide of this oil.
Indications:
Anti-Infl ammatory Massage Oil. Apply as much as needed in localized area. Can be used with your choice of base cream
Contraindications:
Can cause allergies if allergic to apricot
Possible Side effects:
Localized rash or hives if allergic
Dry skin
Specifications:
100 ml bottle
100mg CBD (0% THC)

Everyone Is Different
The fact is, every person is in a different place in their life and wellness, and will react differently to natural products. Seek professional advice what products & ingredients are best for you.
These statements have not been evaluated by the Food and Drug Administration. These products are not intended to diagnose, treat, cure or prevent any disease.
ESCAPE Massage Oil - Natural